To add content to the page we use modules. Modules act as containers for information. You can add as many modules as you wish to a page. For example you can add a module to hold some  Formatted Text , another one to hold a list of  News Articles  and another to contain an  Image Gallery .
You are also able to delete, copy, re-order or move modules around the page, or move them other pages on the site. For more details on how to arrange modules on the page, see  editing existing modules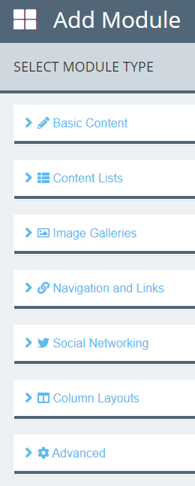 Basic Content
Create Formatted Text, add an Image, embed an uploaded Video, add a YouTube Video, insert a Google Map or add a simple Email Form here
Content   Lists
Display content through Content Lists: News Articles, Events, Products, Contacts, Documents, Videos, Testimonials etc.
Image Galleries
Add a collection of images through a Background Carousel or other gallery types
Navigation   and   Links
Enable easy navigation on your website through adding a  Link List , which can be internal or external, or Subpage Listing which displays child pages from a parent
Social Networking
Add in your Social Links
Column Layouts
Choose a column layout that suits you. Columns can be nested within columns and can be changed to display differently responsively. Add a  Tabbed Layout   or  Accordion   here
Advanced
Embed some HTML. Only use these features if you are proficient in coding – or contact us
Other
You may have products, membership, ecommerce or other bespoke modules below here. For more information, contact us